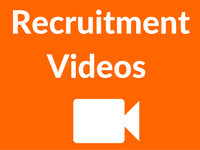 At Web Based Recruitment we specialise in producing short promotional videos designed to help you attract targeted candidates for your jobs.
If you are looking to promote your current or ongoing job vacancies then a promotional video is a great way to get your key message across.
Your promotional video can be placed on your own website or blog as well as being uploaded to video sharing sites such as YouTube.
For extra visibility your video can also be shared across social media sites like Facebook, LinkedIn, Twitter etc.
Why Have A Recruitment Video?
Traditional text based recruitment advertising messages are less likely to be noticed as visual content across the internet increases day by day.
Also, attention span levels are much lower than before which means your recruiting message really needs to stand out from the crowd to be noticed.
What Can Recruitment Videos Be Used For?
How about some of the following ideas:
Ongoing Vacancies
Graduate Vacancies
Seasonal Vacancies
Individual Job Vacancies
Recruitment Events
Company Profile / About Us
Here are some example of recruitment videos we have produced:
Hampshire Hospitals NHS Foundation Trust: Recruitment Event 
Care UK – NHS 111 Vacancies:
Back 2 Front – Hospitality Recruitment Agency:
Allied Worldwide – IT Support Roles:
Taylor Herrick – Niche Recruitment Agency:

How Can Online Video Help You?
Having an engaging and informative recruitment video can help attract attention to your company and your job vacancies.
Recruitment videos can be easily shared across Social Media and can be used to help attract passive candidates.
We Can Produce Videos For You
We specialise in producing short, compelling and engaging videos that get your key recruiting message across.
Here Is Our Simple  Four Step Process:
Step 1 – We talk with you to understand the key messages you want to get across in your video.
Step 2 – We prepare a compelling and engaging video script for your review and approval.
Step 3 – We then add graphics and a professional voiceover to create your video.
Step 4 – Once approved we send you the completed video which you can use on your own website and video sharing sites like YouTube.
Ready To Find Out More About Online Video?
If you aren't already using online video as part of your recruitment strategy then now is the time to start – before you get left behind!
Simply call Mike Taylor today on +44 (0) 1962 883754 or email him at: mike@web-based-recruitment.com for a free initial chat to see how Recruitment Videos could benefit your company.