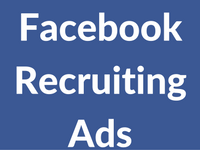 Are you fed up spending money each month on the usual recruitment advertising channels with little or no return?
Are you advertising in the same places each month because that is where your competitors advertise?
Great news! It is now possible to advertise directly to your ideal candidates due to the vast amount of user information the Social Media sites have collected about their users.
Target Your Ideal Candidates
This means that you are able to target your ideal candidates beyond the traditional basics of demographic and geographic data and go much deeper with your targeting.
Imagine being able to put your ads in front of people that you know have worked for (or still work at) a particular company? Or people who you know went to a particular university or you know have a particular skill-set?  Well now you can, with Facebook Recruiting Ads!
In the history of recruitment advertising there has never been this level of targeting available before!
Ready To Find Out More?
Simply call Mike Taylor today on +44 (0) 1962 883754 or email him at: mike@web-based-recruitment.com for a free initial chat to see how our Facebook Recruiting Ads service can help you.